Christmas in July Nagambie Lakes Leisure Park
20 & 21 July 2019 - over 60 people attended.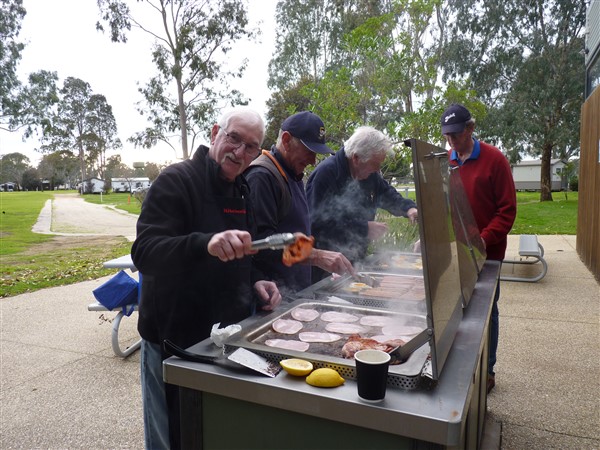 More photos below
Well what a fantastic and relaxing weekend we were treated to!
Planned by Esther &Dennis Healy, & and assisted by all the merry men and women of the Buick Club.
Many hands make light work, although it was a lot of work for them, but they were happy to help Esther and Dennis.
Saturday 20/7
10-10.30: Morning Tea: Firstly we met at the Shell Service Station, Donnybrook.
Absolutely freezing and winter wind blasts suffered to get from the car to the cafe.
11.45: Arrivals commenced at our truly wonderful accommodation spot. This totally set us into relaxation mode, as soon as we arrived at our Cabins.
As, all of our cabins faced the beautiful Goulburn River!!!!
Oh The Serenity!!!!!!
1.00PM Lunch: Freshly made Pizzas were served on the beautiful decking of the Leisure Park Lake Cafe. Even those with food intolerances were catered for with their unique pizza. Relaxing and chatting for an hour in the sun. Yes, I know the Sun!! What am I talking about it is winter. Well the day was just a glorious winter day.
2.15 Boat Cruise. On finishing our lunch the first group headed off on the river cruise on a beautiful new boat, with plenty of very large windows for a beautiful view, plus the" up top of the boat, had plenty of chairs to enjoy the fresh brisk air. After an hour of a truly relaxing cruise with our well dressed, jovial Captain, we returned to the Cafe Dock.
3.15 Boat Cruise. Now the second Group could enjoy the same cruise, so relaxing, a couple of our car club sailors nearly nodded off.
First group: now had time to relax, or help set up the Conference Centre for the Christmas function. Great planning, by Esther and Dennis and her merry helpers, achieved beautifully decorated tables with all the traditional Christmas trimmings. Colourful Bonbons, Christmas Serviettes, shiny cutlery, candles. Green sprigs of trees tied with red ribbons, small bottles of sparkling water for each table. Gold coloured Christmas, table runners. The evening was a BYO alcohol function, which suited everybody. Plenty, of wine and water glasses were available and an Urn was set up for Tea and Coffee.
7.00pm: Christmas in July Dinner:
The park chef prepared a delightful 2 course meal, Pork, Turkey, Gravy, Apple and Cranberry sauces with, Roast pumpkin & Potatoes. Plus cauliflower and Broccoli au gratin, steamed peas and carrot.
Dessert: was plum pudding, custard, cream or passionfruit cheesecake.
Again food intolerances were well catered.
The merry helpers, delivered a bowl of chocolates to each table for entrants to enjoy with their hot drinks.
Entertainment: The President of the 3 Clubs told of their experiences when Apollo 11 made it to the moon, on the 50th Anniversary of the moon landing. We then had a little quiz on some significant details of the Apollo 11 mission and Parkes, Australia involvement.
Esther Healy announced on the night , that she is the newly elected events coordinator on the Buick Car Club committee.
Surprise !! Santa and Mrs Claus arrived, to the amazement of everyone and they moved the party into top gear! After some Christmas wishes, and an easy, fun game that included all members at the dinner, three winners emerged. They were presented with a beautiful bottle of wine each.
After more chatting and laughs, it was time to go home. Unfortunately, no one wanted to leave. So the Merry helpers had to work around us removing decorations while we sat there! Well they had to go to bed as they were cooking a hot breakfast, for us in the morning!!
We all walked back to our cabins with torches and smart phone torches showing us the way.
Sunday: 21/7
8.30 - 9am: A freshly cooked breakfast was prepared and supplied by the Buick Club members. Toast, eggs, 2ways, poached or fried), bacon, sausages, Tea, Coffee, Urn station. The Leisure park cafe gifted us fresh pancakes. Food intolerances were again catered.
10.30- 11.am Clean up time: everything was packed up washed if needed, and then packed back into the Healy's car.
Alternatively others headed off the next part of the weekend.
Mitchelton Winery:
Well that was and eye opener, (CHACA members had been there 20 years ago, when Ralph Provan organised a fabulous weekend tour of the Seymour, and the surrounding area.)
The winery has spent millions since then.
Such a fantastic, tourist spot. People were arriving there, all morning!!!
It now hosts a magnificent cellar door, Cafe, Restaurant, Exhibitions, accommodation, pool, and Lookout tower. (That was there 20 Years ago).
New Lift, to travel to the top deck, for scenery viewing, the winery is massive.
The lift also takes you to the Exhibition area, running of this area, is the old winery caves, which you can now walk through, and at the end of the tunnel, there is a long wedding table set up for wedding receptions.
We all spent over an hour there seeing all the sights, all free, we only paid for our Tea and coffee. I requested a port, to go with my lemon tea, it was very smooth. It did not come from Mitchelton, as they specialise in wine. It most likely came from Tahbilk, which is not far from Mitchelton Winery.
The restaurant was huge and most members sat at tables near the windows and enjoyed the morning sun. Also a CHACA group got the prime spot around the beautiful log fire, and they settled in to read papers and enjoy the ambience.
We all headed home in our own time, at our own pace.
Nagambie is such a beautiful place, and not that far out from Melbourne.
Make sure you visit there one day over the winter and enjoy the scenery.
Thank you to Ester and Dennis Healy, and the Buick Club, for such a fabulous weekend run.
Some members suggested we should make it a yearly event!!!
Louise Frances Baker, from CHACA.
Note: Just click on the photos to enlarge them