1964 Ford Fairlane 500 Sedan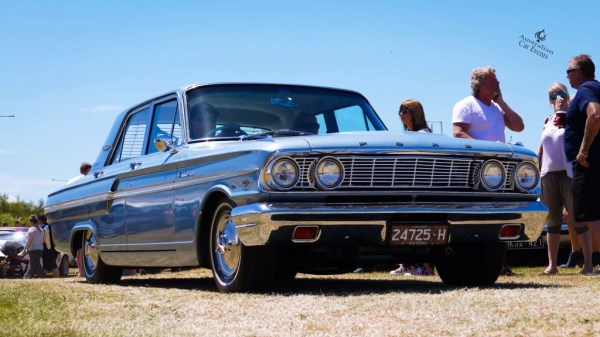 Registration # 24725-H
I.D. Plate Codes: - Serial Prefix FDSID, Serial # 107215,
SIDO # 318009, Model # 12174, Paint Code # KKK, Trim # A05,
Engine & VIN/Chassis # RF6738.
Bought by Peter & Sandra Hibbert for on 02/03/06
Mileage was 103,500.
A gentleman of Blairgowrie owned it for 5 years offering it to me for purchase March 2006.
Prior to that, the original first owner of Gundowring, Vic, owned it for 20 years. Both gentlemen did a few items to the car to comprehensive maintain quality and originality.
All are as listed below:
The original V8 Windsor 289 Cu" engine was overhauled at around 85,000 miles grinding crankshaft to first undersize, cut in hardened valve seats, (heads cast late 1964), new Federal Mogul hardened valve set, used the original steel camshaft, fitted new gear & chain, new lifters, new .020" new pistons, crank is .010" down. Electronic distributor fitted.
Automatic 3 speed transmission had never been opened; only fluid changed. The designation on steering column:- L1 is first gear. L2 is second gear. ALWAYS take off in L1. Differential never opened. Steering box too but a noticeable leak from the top has been repaired.
New front brakes from XA, XB, XC rotors, XF, XE vacuum brake booster & XY dual circuitry. Calipers are PBR standard with HZ Holden/XF Ford disc pads. Trimming to interior roof is original as are door panels & dash pad but some repair has been done by me.
Seat cushion inserts & all fabrics are factory original. Later interior dimming type mirror is used.
The original owner fully painted the car exterior himself some years ago. The colour match is the original Silver Grey (Code K) as it should be. Plated instrument panel items & A/C fascia all re-chromed. I later added air conditioning using the original 1956 branded type of 4 ball outlet fan coil unit. The compressor is the original Email unit that I modified to suit the latest gas.
Fuel is standard ULP. Engine oil used is Castrol GTX 20W/50. Tran`s oil is Castrol TQF.
At 100,000 miles. The second owner changed the engine oil, replaced oil pan gaskets & filter.
The heater valve is located to RHS of engine below dry element air cleaner. Heat is off when lever is hard forward. Cold starting auto` choke is set to minimal & engine needs a short running period prior to moving off.
The windscreen & gasket have been replaced, front brake hoses, radio repaired, front & rear seat cushions re-blocked, 4 new front tyres, front suspension ball joints, bolts & strut bar kits, new rear wheel cylinders, transmission shift rod seal & cleaned dust from all instrument panel fittings. It is fitted with factory separate hot water heater.
I have done no other work than a water pump, re-stretched the interior door panels & trimmed the floor with fresh original matching loop pile carpet. Maintenance is simple & cost effective.
Interior dash clock works perfectly as all other factory fittings & accessories.
The bright blue seat belts that were non-matching were renewed in silver blue colour by me.
We use the Fairlane often, especially to Swap Meets.
A great safe Ford & will stay with the family.
Note: To enlarge picture please just click on them