1936 Dodge A Brief History

Bought the car in 1972 for $200.00 from Creswyck, Victoria. Reported to be the first taxi in Creswyck.
Not much money with two kids and a mortgage, so I made up a compressor outfit using my Brother's old hooker gear compressor (Allan was an Abalone Diver) with a 4 stroke Briggs and Stratton motor. Used an old boiler tank that looked like it could handle 200lb/sq inch that I found at a garage sale. Started it up and waited till it reached 80lb. (While hiding around the corner of the garage). Bought second hand Oxy kit.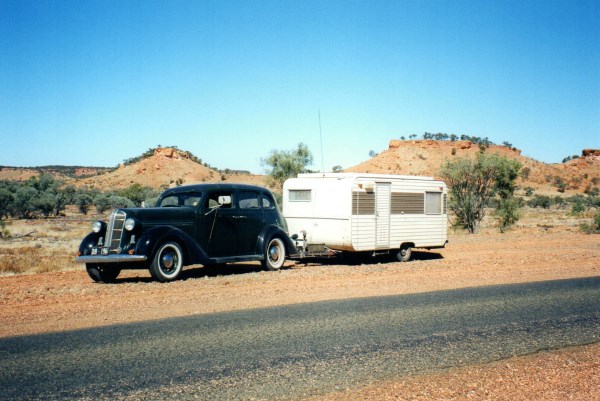 It took 12 months to restore/repair the Dodge body and mechanicals. Sticking valves in the motor so took head off and tapped the valves down while turning the motor with the crankhandle until they were free. Went ok, no smoke.
Drove it for a couple of years on Club runs, then drove to Queensland with a camping trailer on a CHACA National Tour. Broken rings burnt a hole up the side of a piston, so after returning home to Victoria on 5 cylinders, I reconditioned it with a rebore and new bearings.
Converted to LPG about 40,000 miles ago. Converted to 12 volts about same time to allow for caravan brakes.

All holidays were with a caravan from then on. Been to Alice Springs, most Bay to Birdwood events, Long Long Range Tour with VDC up to Cooktown via the Birdsville Track. Several trips to Queensland and NSW, Flinders Ranges Ayre Peninsula. All with caravan and many with Ray and Margaret Griffin, several with CHACA Journal Crew.
Tasmania 3 times.
Problems...Broken diff pinion gear, blown head gasket, exhaust manifold gaskets, water pumps, generator brushes (Alice Springs), flat tyres, vaporising, split generator pulley, broken drivers window glass, shuddering clutch, blocked radiator, convertor froze (Alice Springs), Converted to Hardy Spicer Universals, changed to H4 headlights, electric fuel pump, use radial light truck tyres, changed spring hangers from threaded type to nylon bushes, extra second leaf for caravan towing, reset leaves with sledge hammer (VDC magazine instructions). Stainless steel exhaust, fitted a 3¼" inch bore motor bored out to 3&5/16 plus 20thou. About 10 years ago.
Now due for a second wiring loom and a new island top roof.