Peter's 1957 Chevrolet Bel Air Convertible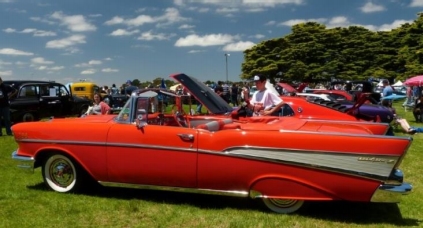 Model: # 2434, 2 door Bel Air Convertible.
Made by: Chevrolet Motor Div`; General Motors Corporation.
Made in: Detroit, Michigan,U.S.A.
Engine: 8 cylinder OHV 'vee'form.
Engine capacity: 283 cubic inch petrol aspiration.
BHP: 220 developed.
Body colour: Matador Red; white convertible top
Transmission: 3 speed 350 `Turbohydramatic` automatic.
Brakes: Hydraulic vacuum power assisted. 11" dia.Drums.
Steering: Ball-race.
Differential: Hypoid semi-floating 3.36:1 ratio.
Suspension: Front: Independent coil springs/'A' arms, ball joint.
Rear: Longitudinal 4-leaf, hydraulic shock absorbers.
Wheelbase: 115".
Convertible top: Electric/hydraulic push/pull button.
This very stylish, most popular and much desired Chevrolet Convertible has held its` value in the TriChevrolet `55/`56/`57 classic car market. One of 47,562 American built 1957 Chevrolet Convertibles with an original base price of US$2,611 This Convertible came from Seattle, Washington in the North West of USA where it had been stored for 12 years. The speedometer showed only 62,000 miles and it had not suffered from corrosion, abuse or collision. Imported late 80`s to Western Australia, the new owner spared no expense in a total restoration using restored original and reproduction items. It is undetectably converted to RHD using AustralianGM components. The presentation is faultless and a credit to the professional restorer. I have constantly and painstakingly maintained the Chevy since 1991 to keep it in pristine condition. Any feature that appears to be deteriorating is immediately restored using original parts provided with the factory build. It usually receives top trophies wherever it is shown. It is a delight to drive and a great classic touring car. All the Family love it. It will be passed onto our Son, Mason for his eternal care.
Note: To enlarge images please just click on them