Peter's 1949 MERCURY CONVERTIBLE COUPE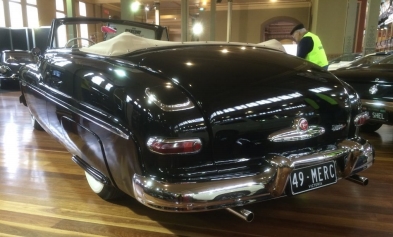 I am a regular attendee to the Early Ford V8 Club of America Grand National meets every 5 years. The latter meet being June 2013 conducted at Lake Tahoe, Nevada USA. This was the meet venue of the GN in the 70`s. I had earlier advertised in various American publications for a search of a 1949 Mercury Convertible in complete condition only requiring a refurbishment. At the Lake Tahoe meet, I was approached by a USA club member who offered the original RUST FREE black body colour with a new tan rag top Mercury Convertible & an agreement to purchase reached. He had bought the Mercury at Nebraska from an older lady 32 years prior. It had been carefully dry stored at Arizona & finally driven to Omaha. The mileage when it came to Australia was 61,336 & complete in every respect which is vital to me as rarer Mercury parts are extremely difficult to source. It was arranged to be imported to Melbourne, Australia. A flat top transporter took 5 days to reach the receiver in LA. A further 2 months to arrive. All payments were made including the Import Permit from Canberra issued 14th June 2013 costing AU$50. There was no duty payable as it is over 30 years old. Other fees charged were considered reasonable including quarantine, handling & cleaning etc. Mainfreight head office at Queensland arranged all details & storage for a cost of AU$3,065.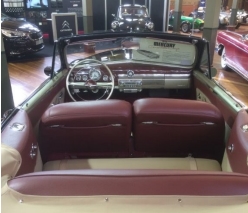 A flat top transport bought the Mercury to our home September 2013. It was instantly assessed as to work required. It has the original 255 Cu" flat head side valve engine, all 6 volt electrics & 2 speed overdrive unit, electric/hydraulic front seat, rag top & windows the original Firestone cross ply tyre in the trunk, 4 other matching 7-10x15" wide white wall tyres, dual exhaust system with 'Smitty' mufflers, original radio & heater, night & day interior mirror, a cheap non original red/white vinyl tuck & roll interior trim & the body & paint finish needing minor dent & paint refurbishing. The engine & transmission were in fine condition & only needed cleaning & painting. All brake system including new lines, master cylinder & wheel cylinders either refurbished or replaced with new. The steering box is sound. Further work took place over the next 8 months including a complete interior strip, painting of the floor, trunk pan & all underside metal, running gear & suspension using POR 15 satin black, Dyna Mat adhered to the cabin floor, treating of all interior doors & panels against possible future corrosion, 60% of the exterior body painting carried out & the whole body cut & polished to presentable. A reproduction fuel tank installed. All stainless steel & chrome plated components were stripped & restored to factory finish standards. The wheel dress trim rings & hub caps were especially restored to perfect. A full original matching style 3 colour interior trimming installed. Instrument panel, gauges & trimming refurbished as it was all very original & clean. It is a great cruiser, especially with the top down & has proved reliable & safe Mercury. The suspension compares favourably compared to the Ford early 'buggy' springing. It is a heavy car but powerful.